The weekend after Thanksgiving is going to be super exciting for me, because I am going to the
Chicago TARDIS
convention! I'm especially excited because this is going to be my first Con that's based on a single franchise. I'm really interested in how they work--and I can't wait to see one of my favorite Doctors (Peter Davison) and a coupe of my favorite companions (Freema Agyeman/Martha Jones and Louise Jameson/Leela).
I have a cosplay I may use, but right now I'm trying to figure out what to wear! I also want to interview some cosplayers and dealers at the Con, though, so I want to dress in normal clothes for at least part of the day. So here are some awesome Doctor Who pieces that I have been checking out--and I'm looking to you for some input!
1. Something Blue Babydoll from
Think Geek
/Her Universe
$22.99
2. Weeping Angel Babydoll from
Her Universe
$28.00
3. Tardis Blueprints Tank from
Geeky U
$14.99
4. VanGogh Exploding Tardis Skirt from
Her Universe
5. Tardis Costume Dress from Hot Topic and Her Universe
$34.50
$22.50
$20.50
8. Doctor Who/Police Box Skirt by
ComplementsbyJo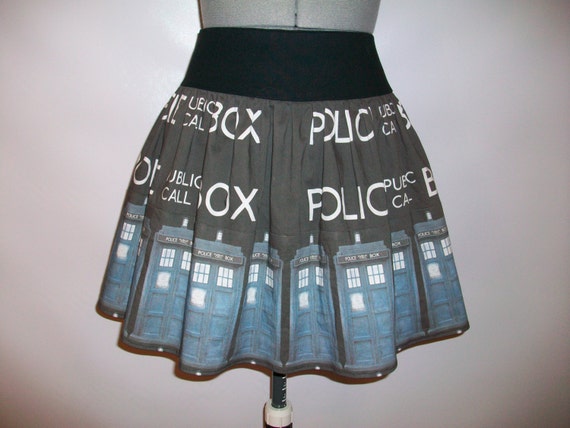 $55.00
$19.95
10. Fighting Time Lords by
Joel Watson
of
Hijinks Ensue
Or is there something else you think would be awesome? Let me know in the comments! And check back next week where I will explore Doctor Who accessories! If you're interested in any of these clothes, follow the links and you can purchase them yourself (just don't buy the last one, or I'll have to be mad).